"Introduction to Deep Reinforcement Learning", By Prof B. Ravindran, IITM on Thursday, 24 August 2017, 6.00 pm at University of Melbourne Carlton
24 August, 2017 @ 6:00 pm

-

8:00 pm
IITaV invites you to our August 2017 Networking Event to meet and greet Prof B. Ravindran of IIT Madras who is currently visiting Australia and hear about his work on "Deep Reinforcement Learning". Deep Reinforcement Learning (RL) methods have achieved significant successes recently by marrying the representation learning power of deep networks and the control learning abilities of RL. This has resulted in some of the most significant recent breakthroughs in Artificial Intelligence such as the Atari game player and the Alpha Go engine from Deepmind. This success has opened up new lines of research and revived old ones in the RL community. In this talk, Prof Ravindran will introduce the reinforcement learning paradigm and briefly review the progress made in deep RL. The talk will be accessible to an AI ignorant audience and will try to motivate the concepts through practical examples.
Date/Time: Thursday, 24 August 2017; 6.00 pm to 8:00 pm; nibbles and drinks will be served.
Venue: Room PAR-Alan Gilbert-G21 (Theatre 1); Alan Gilbert Building, University of Melbourne, 161 Barry St, Carlton VIC 3053, Corner of  Barry and Grattan Street ( Map )
Cost: Free event for IITaV members and guests
Please register by Friday 18th August to help us confirm the numbers. For any query about this event, please contact:  Nikhil Kumar (0417 103 795) or Meenakshi Arora (0401 914 420)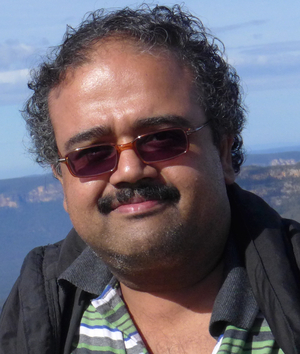 Prof. Ravindran is an Associate Professor in Computer Science at IIT Madras. He has nearly two decades of research experience in machine learning and specifically reinforcement learning. He has held visiting positions at the Indian Institute of Science, Bangalore, India and University of Technology, Sydney, Australia. Currently, his research interests are centered on learning from and through interactions and span the areas of data mining, social network analysis, and reinforcement learning.
He is the co-director of the Reconfigurable and Intelligent Systems Engineering (RISE) group at IIT Madras, which has nearly 80 members associated with it currently. He also heads the Robert Bosch Centre for Data Science and AI at IIT Madras.
He is one of the founding executive committee members of the India chapter of ACM SIGKDD and is currently serving as the vice-president of the chapter. He has published nearly 100 papers in journals and conferences, including premier venues such as ICML, AAAI, IJCAI,  ICDM, NIPS, UAI, ICLR, and AAMAS. He has also co-authored the chapter on reinforcement learning in the Handbook of Neural Computation published by Oxford University Press.
Regards


IITaV Management Committee