IITaV Newsletter
| | |
| --- | --- |
| December 2017 | Issue No. 17 |
President's Message

Dear IIT Alumni,

Welcome to this edition of our newsletter that reports on our professional and social events during the last six months. It has been a busy period since our AGM in May with two professional events and three social events. The organisation has also continued to grow steadily with a lot of participation from our associate members which is a welcome addition as it brings us closer to the student community of IIT Alumni here in Melbourne.

The professional events included a tour of the Centre for Hybrid Energy Systems (CHES) at CSIRO in July and a talk on applications of deep reinforcement learning in artificial intelligence by a visiting professor from IIT Madras in August. On social networking front, we had three events that included an informal networking event at Glen Waverley Novotel in June that seems like becoming an IITaV tradition every year. This was followed by our Diwali celebration on the boat in October and a picnic at the Jells Park just last week.

We now have 85 members which include 20 associate members who have joined the organisation recently. I would like to welcome all of our new members to our family and thank the student members for their active participation and feedback on our on-going activities. I also thank our Corporate Members i.e. Swinburne University of Technology, Envision IT and the University of Melbourne for their continued support.

In addition to growing in numbers, the committee has also established closer ties with similar IIT alumni associations around the globe. We have now established introductory relations with three other IIT Alumni associations at Sydney, Singapore and Greater Houston. I look forward to strengthening of these new relationships and a closer engagement with our alumni interstate and overseas.

I would like to take this opportunity to thank current and past Committee members and their families for your great contribution and commitment that allows us to organise these professional and social events regularly. With your continued dedicated efforts and the ongoing support from all of our members, we will continue to actively organise and participate in more networking events in the coming year.

With best wishes for the coming holiday season and a Happy and Prosperous New Year,

Nikhil Kumar

M: 0417103795
nikhil_kumar@bigpond.com
Picnic @ Jells Park

December 17, 2017
To mark the end of the year 2017, IITaV held a family picnic at Jells Park on 17 December 2017. Weather Gods smiled and provided us with a superb day. With crisp air and perfect temperature, people were delighted to relax amongst the twittering of birds. And the 36 attendees felt that all was right with the world. Or at least with Jells park and their picnic!!!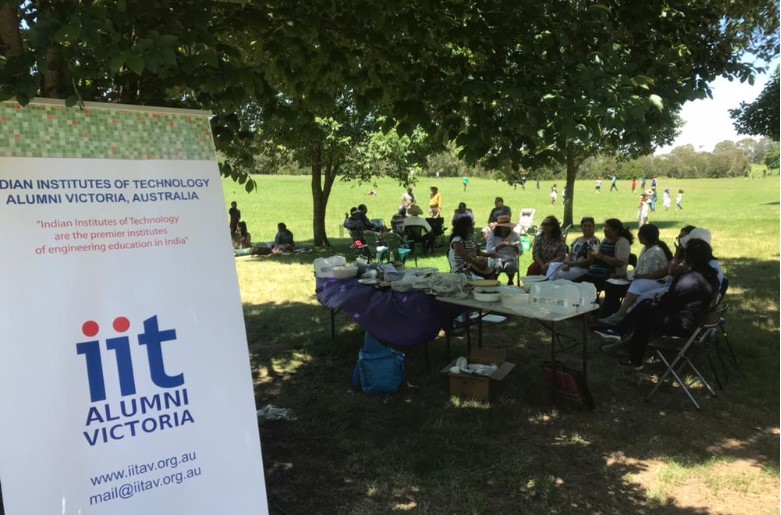 Families brought their delicacies to share, satisfying the culinary cravings of the attendees. More satisfying when you come hungry after a game of Cricket. Almost all participated and was fun. It was a good to see children enjoying their soccer. And the ladies socialised with an exploring walk.
Some members commented on their recent pollution experiences in India and China and it was indeed good to breathe such clean unpolluted air. On the whole, every one had a great day out with lots of fresh air and plenty of smiles. (
More Photos
)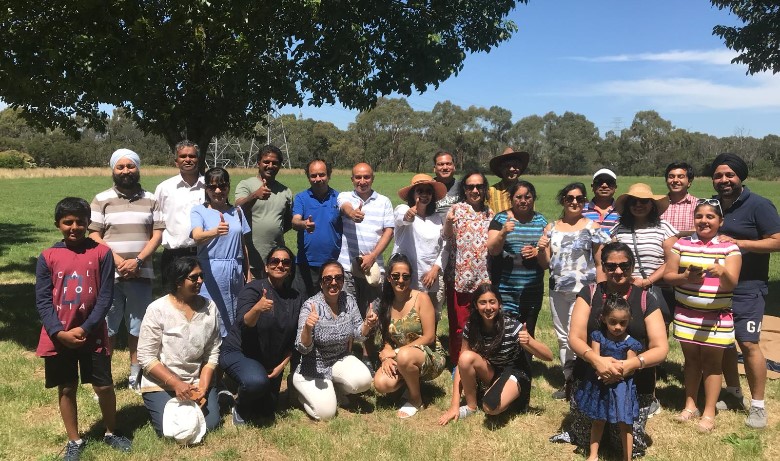 Diwali Celebrations
October 15, 2017
IITaV Members, Families and Guests celebrated Diwali festival with the usual exuberance onboard the palatial double decker boat, CAROL DEE of the Party Boat Cruises. Sun shining, Wind breezing through, Smiles all around - Melbourne reserved its perfect spring day for us !!!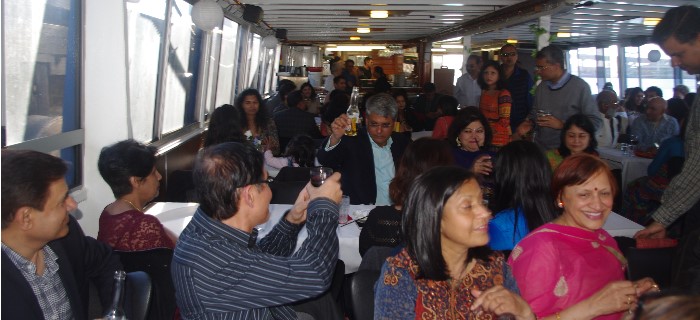 The 4hr cruise took us through Victoria Harbour Docklands, Port of Melbourne and Hobson's Bay-Williamstown. The returning trip to Docklands captured Melbourne's stunning city views. Seeing Melbourne Star illuminated with Indian colours was a treat to watch!!!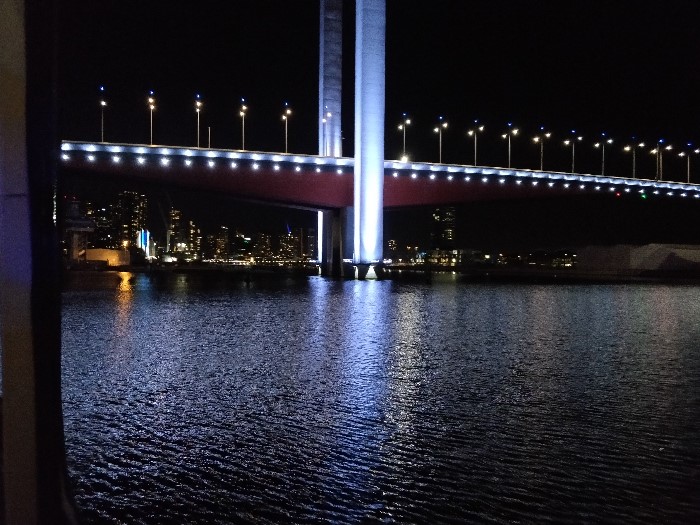 A large floor area on the top deck with a bar provided the perfect entertainment for our dance loving crowd with natural scenery forming the backdrop. A variety of food helped to entertain our taste buds with drinks galore!!!
Thanks to Sangeeta Singh, Pallavi Saraf and other Committee Members for their hardwork and tireless effort over many months to bring this entertaining event to our Members. Its great to see all our Members and families together. Thanks to Diwakar and Ashok for capturing the moments!!! (
More Photos
)
Introduction to Deep Reinforcement Learning
Prof B Ravindran, IIT Madras
24 Aug 2017
IITaV organised a networking event on 24th August 2017 at University of Melbourne campus and invited Professor
B Ravindran for a talk on "Deep Reinforcement Learning".
Prof. Ravindran is an Associate Professor in Computer Science at IIT Madras. He has nearly two decades of research experience in machine learning and specifically reinforcement learning.
Deep Reinforcement Learning (RL) methods have achieved significant successes recently by marrying the representation learning power of deep networks and the control learning abilities of RL. This has resulted in some of the most significant recent breakthroughs in Artificial Intelligence such as the Atari game player and the Alpha Go engine from Deepmind.
The event was attended by IITaV members; and the University of Melbourne staff and students. IITaV President Nikhil Kumar thanked Prof. Ravindaran for his interesting and informative talk and presented a certificate of appreciation to him.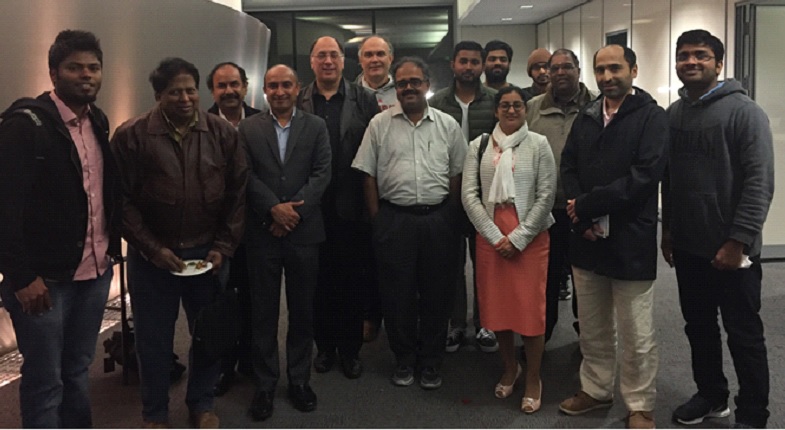 Tour of CSIRO's Centre for Hybrid Energy Systems (CHES)
27th July 2017
IITaV Members had an opportunity to visit CSIRO's Centre for Hybrid Energy Systems (CHES) on Thursday, 27th July 2017. CSIRO has established this centre based on its expertise and capability in energy storage, renewable energy systems, hydrogen and fuel cell technologies, fuel processing, systems design and construction, and integration of energy technologies.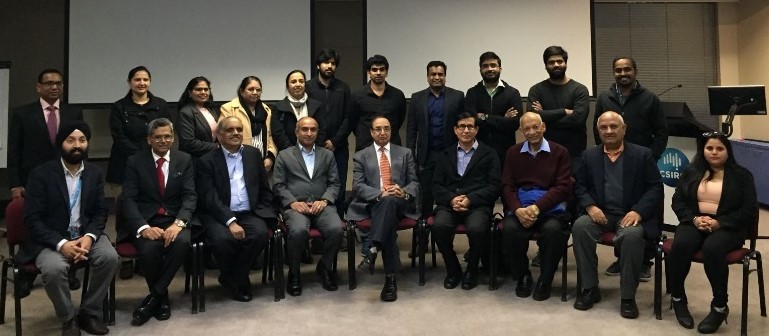 CHES is a collaboration hub for researchers & industry to develop and demonstrate new hybrid energy systems. The scientists utilise the centre to look at challenges and opportunities related to integration of hybrid energy systems with renewable energy technologies, and investigate long term renewable energy storage technologies (hydrogen, ammonia, methanol) and on the export potential of Renewable Energy from Australia in the form of transportable fuels.

About 30 IITaV members visited the centre. CSIRO staff made a presentation on CHES and then took the members on a tour of the Centre. The visit was concluded with a networking session and refreshments.

Thanks to Dr. Sarbjit Giddey for organizing this event.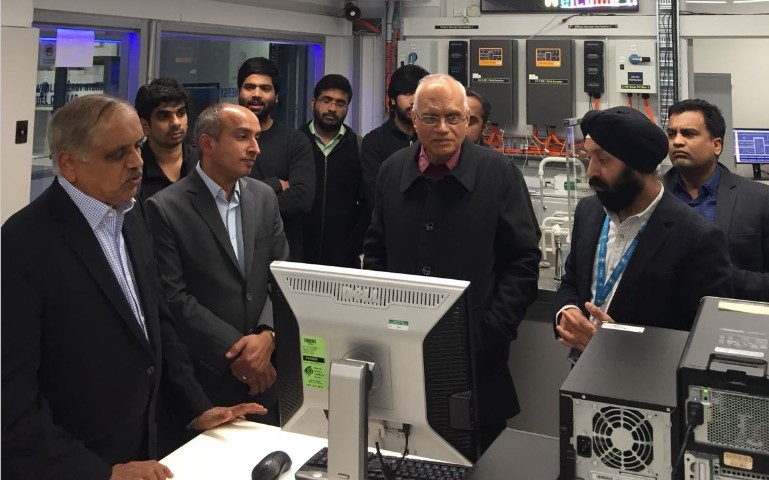 Informal Networking Event @ Novotel, Glen Waverley
29th June 2017
IITaV Members and their families had an informal get together at Novotel Glen Waverley. Our informal events are best way to meet and greet other members and their families in a relaxed atmosphere over some nibbles and drinks. No fixed agenda keeps things flexible. In our last event, Rajasekar Ravi briefly presented his view on Energy sector and shared his business ideas amongst other members for possible collaboration.
IITaV AGM 2017
13th May 2017
IITaV held its AGM 2017 at Swinburne University of Technology, Hawthorn, on 13th May 2017 and elected the
Management Committee for 2017-18
unanimously. Around 20 IITaV Members attended the event and shared their thoughts to help shaping the IITaV events for the upcoming year. Please find the
AGM Presentations
and
MoM
.
IITaV President for 2016-17, Ravi Singh, presented a summary of IITaV activites held during last year. He told the audience that the objective, "Promoting professional development and social interaction between Members, together with growing the Membership base" drove last year's Committee activities. He thanked the support extended by all IITaV Members and their family to the Committee's activities. IITaV Past President Arun Kumar appreciated the excellent leadership of Ravi Singh in leading the Committee last year.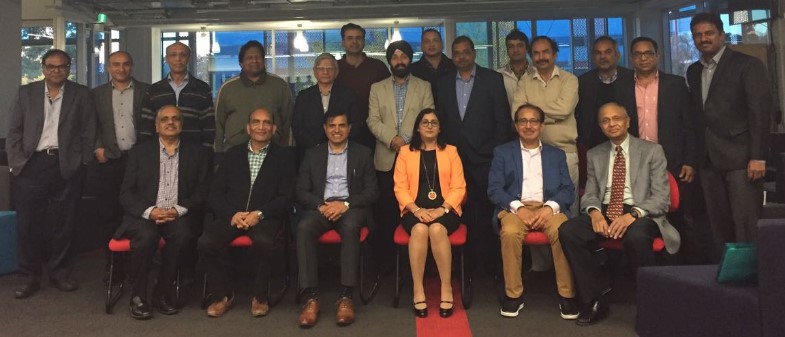 In the absence of IITaV Treasurer, Rachana Kaudinya, the incoming President, Nikhil Kumar presented the Treasurer's report for 2016-17. Treasurer's report had every cent accounted, and the audience commended the effort of Rachana Kaudinya for maintaining IITaV accounts meticulously.
Incoming President for 2017-18, Nikhil Kumar thanked the efforts of Ravi Singh and Abaran Deep and presented them with a token of appreciation. He welcomed the new Committee Members and requested the continued support of all Members to the Committee's efforts.
IITaV acknowledges Swinburne University of Technology for allowing us to use their facilities for the AGM, with special thanks to the support of Prof Ajay Kapoor and Dr Paleneeswaran Ekamabram. (
More Photos
)
IITaV interactions with other IIT Alumni Associations
This year IITaV has reached out beyond Victoria and established introductory relations with three other IIT Alumni Associations, IIT Alumni of Australia (IITAA) in Sydney, IIT Alumni Association of Singapore (IITAAS), and IIT Alumni Association of Greater Houston (IITAAGH). It is indeed very heartening to note that IITians, wherever they are, are always very pleased to meet with IIITians from other parts of the world.

IITAA, IITAAS and IITAAGH Houston have all extended their cordiality to meet and greet IITaV members while they are in their respective cities, where possible. IITaV would be glad to reciprocate their hospitality and meet and greet their members passing through Melbourne.

Arrangements now exist whereby IITAA, IITAAS and IITAAGH are on the mailing list of IITaV and vice versa. Wherever an email from the other IIT associations is of general interest, it is passed on to our members.

We hope to continue and further build on these relationships.
Member Achievements
Dr Arora receives Award for Excellence in Internationalisation of Research: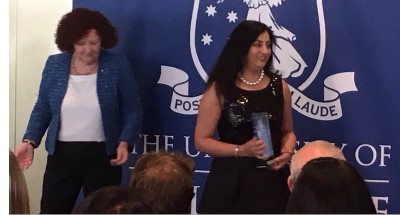 Dr. Meenakshi Arora (IITaV Member) and Prof. Ashok Muthupandian (Faculty of Science) are the 2017 winners of Award of Excellence in Internationalisation of Research for their
Melbourne India Postgraduate Program
(MIPP). This University of Melbourne award recognises outstanding contributions to internationalising research and research training, including through development of international partnerships and networks which may include the contribution made by individuals and / or teams of academic and / or professional staff to development specific international research or research training programs or joint research centres or to the institutional relationships that underpin international research and the University's international standing.
Rajesh Kataria's GlassCo Australia Pty Ltd , National Finalist, 2017 Ethnic Business Awards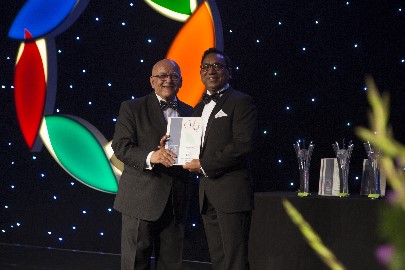 Our IITaV Member, Rajesh Kataria's GlassCo Australia Pty Ltd had been selected as a National Finalist for the 2017 Ethnic Business Awards that celebrate diversity and success against odds. The award ceremony was held on 28th October 2017 in Sydney and was presided over by federal ministers, diplomats, delegates and distinguished business leaders. The program was televised on national television including SBS television.

IITaV Gold Corporate Members




Swinburne University of Technology is an Australian public university based in Melbourne, Victoria. Swinburne operates five campuses in two countries and has an enrolment of students across vocational, undergraduate and postgraduate levels.





Swinburne houses advanced labs such as Design for Ageing, Smart Structure and Factory of Future labs. "Being a corporate member of IITAV, we benefit from collaborations and industry experts to create a new forum for engineering students," Professor Ajay Kapoor, said.





Swinburne has been ranked one of the world's top 400 universities by the prestigious 2015 Academic Ranking of World Universities (ARWU). This result places Swinburne among the top 3% of universities in the world.

Swinburne was named one of the world's top 400 universities by the Times Higher Education University World Rankings 2014–2015. In 2015, Swinburne was ranked for the first time in the Times Higher Education Top 100 Under 50 Rankings, an index of the world's top universities under the age of 50.



Established in 2002 in Melbourne, Envision IT develops software products for global markets. This includes Standalone, Cloud based SaaS, Enterprise, Line of Business and mobile applications.

Envision IT products are known for their ease of use, high productivity, efficiency and reliability. Typically, our products offer an ROI under 3 months.

We are able to achieve this through decades of experience in industry, developing 100+ innovative projects and technology alliances (see below). This enables us deliver products that are seamlessly integrated, diligently automate tasks and streamline business processes.

Microsoft technologies and agile methodology provide a base platform for all our projects. The projects however invariably involve disparate software and hardware from vendors such as Adobe, Autodesk, Cameras, CISCO, Devices, Equipment, Hadoop, Hortonworks, IBM, MongoDB, Oracle, Pay by Phone, RFID, SAP, SenSen Networks, Sensors etc. We maintain alliances with all major and many niche technology vendors.

Envision IT products has consistently won awards right from TravelSmart (2004) to Encarp for employee parking management (FMA 2011 Runners up) to our new product – Audispect that eases Audits and Inspections and saves 40-85% in routine workload. In addition, we develop product for global and government organisations that run their core business.



The University of Melbourne has had a long standing involvement with India. During its formative years, The University of Melbourne received high recognition when Lord Curzon, the Viceroy of India (1899-1905), invited Professor Masson, Chair of Chemistry at The University, to India to advise on the establishment of the Indian Institute of Science, Bangalore. Later, at the time of Indian Independence, Professor David Derham, who was to become Vice Chancellor of the University of Melbourne, was involved in drafting the Indian constitution. Today The University of Melbourne is engaged with the Indian Institute of Science and the Indian Institutes of Technology Kanpur, Madras and Kharagpur through the Melbourne-India Postgraduate Program, which offers graduate researchers the opportunity to work under joint supervision with leading academics from The University of Melbourne and one of the program's Indian partners.




Currently, the University of Melbourne has more than 40 IIT alumni either working as academics or enrolled in PHD. IIT student association@Melbourne has recently been established. The University of Melbourne is pleased to join IITaV as a Corporate member. This collaboration would provide IIT alumni working/studying at the University of Melbourne various opportunities to engage with IIT alumni living across Victoria.



IIT Student association @ Melbourne could be contacted by email or phone:
Mr. Mukesh Soni (President)
M/ +61 4329 28 786
F/ +61 3 8344 4290
mukesh.soni@unimelb.edu.au



Contact Us
We take this opportunity to thank everyone for their contributions. To help us improve the newsletter, please send your feedback and contributions (news, views and memories) for the next issue to mail@iitav.org.au. Previous editions of the newsletter are available here.

Thank you.
IITaV Management Committee
Indian Institutes of Technology (IIT) are the premier institutes of engineering education in India.
IITaV is the Alumni Association for IIT alumni in Victoria.