IITaV Newsletter
President's Message

Welcome to this edition of our newsletter.

First of all, thanks to members and corporate members (Swinburne University of Technology, Envision IT and the University of Melbourne) for your continued support and entrusting confidence in the current committee.

We have until now organised 3 social events (Picnic at Jells Park, Glen Waverley; Diwali at Lincoln of Toorak, Toorak; Holi at Wilson Botanic Gardens, Berwick) and 2 professional / networking events (Visit to Wind Tunnel at Monash University; Seminar by an eminent professor at CSIRO, Clayton). Further details of these events are provided below in this newsletter.

Our regular membership has been steady, however the composition has changed with increase in our associate (student) members. This has led to some changes to the direction and priorities of the committee, with some of the activities inclined to support our student members. Considering this, the committee had organised a first-aid / CPR training course for the members and students by Red Cross. Further, the committee / members participated in the professional development and student mentoring event organised by IIT IISc Graduate (I2G) group of University of Melbourne. Four committee members and an alumni member delivered talks at this event on post-PhD opportunities (entrepreneurship, industrial opportunities, post-doctoral fellowships) and the visa process to settle in Australia. This event was attended by around 65 people.

There is one more professional event organised for April before the AGM, on "Scale up the Business with ease" by our own alumni Sameer Babbar. I will encourage all our members to attend this event.

The current committee has been exploring different ways of building relationships with organisations like banks. It is worth mentioning here that through the tireless efforts of our committee members, a number of sponsorships were secured with these organisations for the Diwali function that substantially subsidised the costs to the members. We are continuing to build on these established relationship with our sponsors.

I would encourage our active members to renew and non-members to sign up for the membership. Now our members can renew their membership for up to 5 years, with significant discount offered for this option. I will encourage our alumni to avail this facility.

I would like to take this opportunity to thank current and past Committee members and their families for their great contribution and commitment that allows us to organise these professional and social events regularly. My special thanks to the IIT spouses and the IIT juniors groups for their efforts and support in the organisation of the big events like Diwali and Holi.

The date for AGM 2019 will soon be announced and I look forward to attendance from all members. This is a good opportunity for members to exercise their rights, and provide feedback on steering the alumni in the right direction.

Look forward to your continued support.

With best regards
Dr Sarbjit Giddey
Mob 0422341379
Email: sarb.giddey@gmail.com
Coal: Past, Present and Future
Prof Rajendar Gupta, University of Alberta
15 Feb 2019
IITaV organised this networking event on 15th February 2019 at CSIRO, Clayton campus.
Professor R.P. Gupta
, Chemical and Materials Engineering department, University of Alberta delivered the talk. With Coal always being a hot topic in Australia, it was great to have the topic discussed by an eminent expert.
Prof. Gupta completed his Bachelor's degree from IIT Kharagpur and Masters from IIT Delhi and obtained his PhD from the University of Newcastle, NSW. He has led several research projects on black Coal at the University of Newcastle and led Clean Coal theme at the University of Alberta.
This event was attended by around 30 people comprising of IITaV members, the staff at CSIRO and Monash University, and students from Monash University. The event was broadcast via webinar to audience from other states. It was good to see interest from the audience in a wide range of fossil fuels to renewable based energy technologies, as displayed by an intense debate in favour and against these technologies from emissions and economics point of view.
Thanks to Divakar Prasad for making arrangements with Prof. Gupta for this talk.
Picnic @ Jells Park

January 17, 2017
Its all fun at Jells Park!!! A great picnic turnout of over 40 Members and their families ensured everyone had their fair share of fun, food and fitness. Mouth watering delicacies brought by our guests filled everyone's plate with South and North Indian varieties.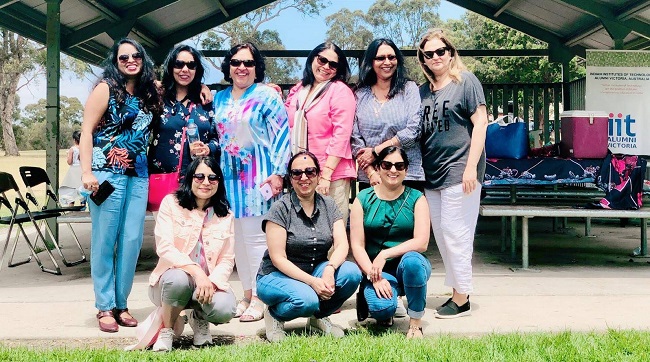 The day was great, with sun up and shining!!! Jells park had everyone entertained with Men playing a couple of cricket matches, while Ladies went around for a relaxed walk.
Thanks to Sarbjit Giddey and Ravi Rajasekar for braving the Sunday early morning sleep to book a nice Marquee at 5.30AM and a hot cup of Masala Chai at 5.30PM :-).
Diwali Dinner @ Lincoln of Toorak
November 11, 2018
IITaV Members, Families and Guests celebrated Diwali festival in a traditional way on 11th November 2018 at
Lincoln of Toorak
. Over 125 guests started to arrive from 6.30pm for a pre-event networking, and had their taste buds tempted by a range of Canapes. It was charming smiles all around and the gorgeous guests kept our photographer busy for the evening.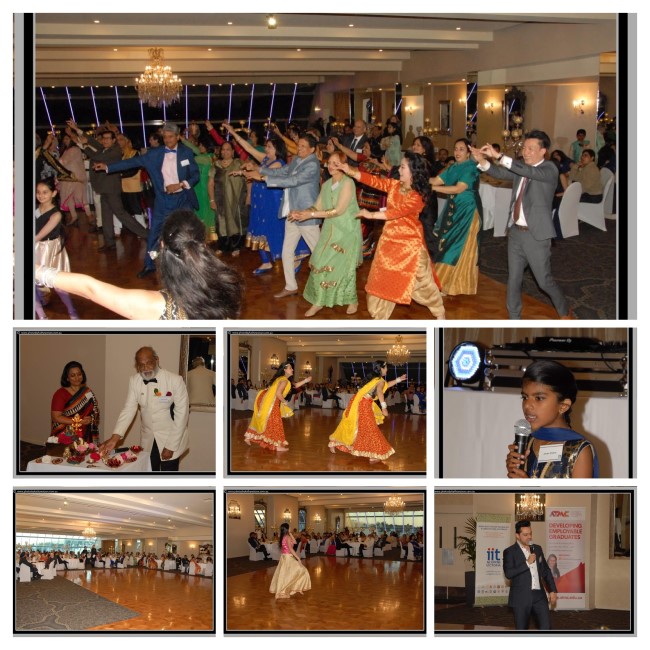 The Master of Ceremonies, Shefali and Divyansh expertly created a great atmosphere with well organized events and funny riddles. Sunny Chandra started the Celebrations by lighting the Diya and Janani Sridhar followed it up praising their Lordships in her melodious voice. Chaitanya Arora and Marshie Rajakumar graced the occasion with their beautiful dances. All guests had a chance to try their dancing shoes with Marshie guiding them with her innovative "anyone-can-dance" moves. Abhishek performed the Standup comedy. And our ever-green game hosts Rakesh and Pallavi Saraf hosted a wonderful set of games for everyone to participate in. Many thanks from the Committee for providing a great entertainment to our guests.
A five course sit down dinner went hand on hand with the cultural events. IITaV President Dr Sarbjit Giddey thanked the gathering, and addressed them with further initiatives as well a summary of past events of IITaV.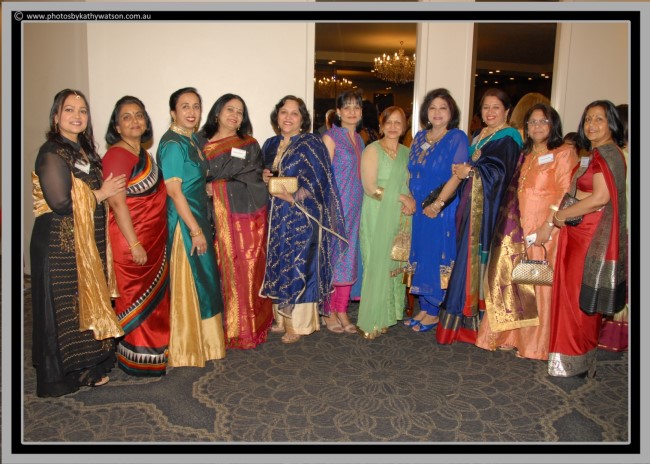 Our Corporate Members,
Swinburne University
,
Envision IT
and
University of Melbourne
made the occasion grand through their presence. We take this opportunity to thank Prof Ajay Kapoor, Dr Steve Bungay and Prof. Ashok Muthupandian for gracing the function with their families.
Its been a wonderful effort by the Committee to put together this event which was liked by all. Special thanks to Harvinder Giddey, Divakar Prasad and the whole team for their tireless hard work without which the function wouldn't have been a success.
Visiting Wind Tunnel Facility
Monash University, Clayton Campus
3rd Oct 2018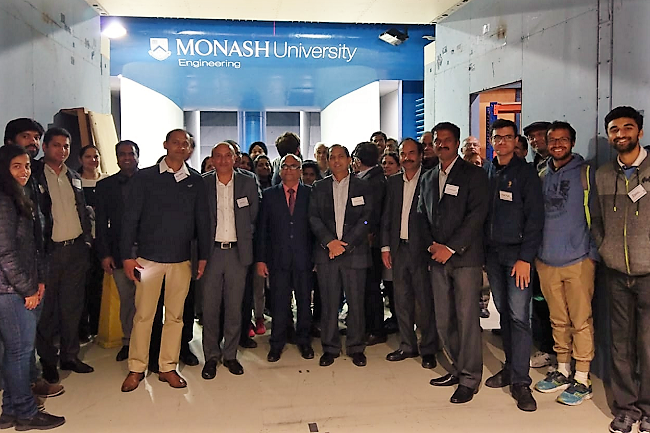 It is based around a large multi-purpose aerodynamic testing facility within the Department of Mechanical and Aerospace Engineering. The Platform supports research, consulting, industry testing, post-graduate research and training, and undergraduate teaching endeavours in the field of aerodynamics and aero-acoustics. Current active areas of research and industry engagement include ground vehicle development, UAV and micro UAV, truck, train, building, sports, yachting, wind engineering, wind energy and various other fields of aerodynamics. The facility is available for industry, research and student use (
Brief History
).
Post PhD Opportunities in Australia - Professional Development of Associate Members
University of Melbourne,

24th August 2018
Several of IITaV Members participated in a Professional development event organized by University of Melbourne on 'Post PhD Opportunities in Australia,' for its students and shared their insights and experiences of settling in Australia after their IIT stints. Most of the Associate Members of IITaV are currently studying in University of Melbourne.
Dr Bala Kumble and Dr Yogendra Vashishtha shared their industrial experiences in power sector and the scope of research work in electrical, electronics and telecommunication industry in Australia. Dr Sarbjit Giddey, Principal Research Scientist at CSIRO re-emphasised the importance of publications. He briefly outlined the bright research prospects in Australia and provided details on how to apply at CSIRO. Dr Sunny Chandra lent useful insight to the Visa application process in Australia. The final speaker, Mr. Ravi Rajasekhar motivated the audience to have a clear foresight of the future and provided interesting advice on goals planning.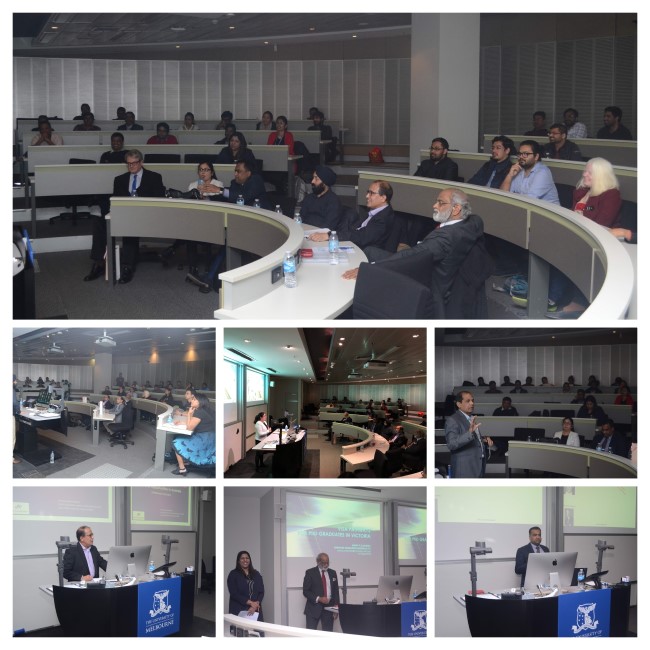 Earlier in the event, Prof. Dick Strugnell, the former Pro-Vice Chancellor (Research and International) delivered the opening address and Dr Meenakshi Arora provided a detailed guideline on steps to survive PhD with ease. The event concluded with vote of thanks from the I2G committee, followed by a networking session over dinner. The event was attended by 65 participants.
Cardiac Pulmonary Resuscitation Training Program with RedCross

8th September 2018
First-aid is an important life-saving skill that everyone of us should have a basic knowledge. IITaV organized a group training program on Cardiac Pulmonary Resuscitation with Red Cross for the benefit of our Members and their family. Around 20 IITaV Members attended this event.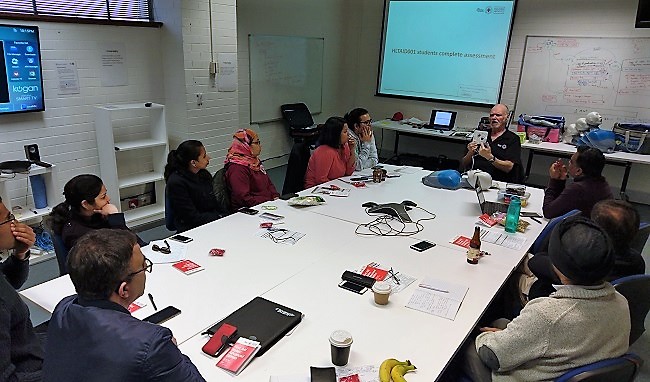 Hemant Govekar Foundation
has kindly agreed to provide 50% discount for the first 10 STUDENT Members who register for this program. Please note that this is only applicable to the students, and not their family members. We will share the email id of those students who have taken this discount with Hemant Govekar Foundation for their water safety campaign.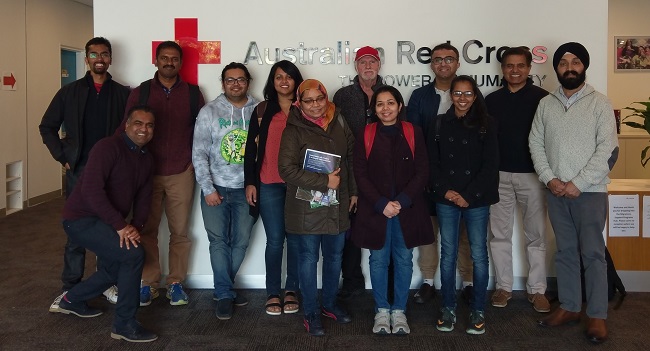 IITaV Member Achievements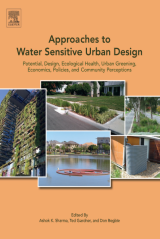 IITaV Vice President
Ashok Sharma
, Ted Gardner and Don Begbie have recently edited a book on
Approaches to Water Sensitive Urban Design
published by Elsevier. It is a comprehensive reference book covering almost every aspect of the water sensitive urban design (WSUD) paradigm. The book is divided into ten themes: history of wsud and wsud approaches; stormwater quality; design guidelines and regulations; potential for wsud; ecological health covering impacts and benefits from wsud; economics and optimisation; urban heat island and greening the city; capacity building and community perception for wsud and wsud post implementation assessment and case studies. These themes are covered in 27 chapters contributed by 67 authors from academia and industry across the globe. It is anticipated that the book will be a useful resource for university students, researchers, engineers, water practitioners, landscape architects and urban planners.
---
---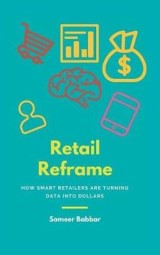 Sameer Babbar talks about proven methods to scale up business. Whether you sell online, in a physical store or a chain of stores, it will give ideas and tools that will help you succeed. It will provide you with insight on the interplay of online and physical store. In today's age information is omnipresent and almost freely available, however the practical applications are far and few.
If you want your business to go upwards and onwards this book is certainly for you.







IITaV Gold Corporate Members




Swinburne University of Technology is an Australian public university based in Melbourne, Victoria. Swinburne operates five campuses in two countries and has an enrolment of students across vocational, undergraduate and postgraduate levels.





Swinburne houses advanced labs such as Design for Ageing, Smart Structure and Factory of Future labs. "Being a corporate member of IITAV, we benefit from collaborations and industry experts to create a new forum for engineering students," Professor Ajay Kapoor, said.





Swinburne has been ranked one of the world's top 400 universities by the prestigious 2015 Academic Ranking of World Universities (ARWU). This result places Swinburne among the top 3% of universities in the world.

Swinburne was named one of the world's top 400 universities by the Times Higher Education University World Rankings 2014–2015. In 2015, Swinburne was ranked for the first time in the Times Higher Education Top 100 Under 50 Rankings, an index of the world's top universities under the age of 50.



Established in 2002 in Melbourne, Envision IT develops software products for global markets. This includes Standalone, Cloud based SaaS, Enterprise, Line of Business and mobile applications.

Envision IT products are known for their ease of use, high productivity, efficiency and reliability. Typically, our products offer an ROI under 3 months.

We are able to achieve this through decades of experience in industry, developing 100+ innovative projects and technology alliances (see below). This enables us deliver products that are seamlessly integrated, diligently automate tasks and streamline business processes.

Microsoft technologies and agile methodology provide a base platform for all our projects. The projects however invariably involve disparate software and hardware from vendors such as Adobe, Autodesk, Cameras, CISCO, Devices, Equipment, Hadoop, Hortonworks, IBM, MongoDB, Oracle, Pay by Phone, RFID, SAP, SenSen Networks, Sensors etc. We maintain alliances with all major and many niche technology vendors.

Envision IT products has consistently won awards right from TravelSmart (2004) to Encarp for employee parking management (FMA 2011 Runners up) to our new product – Audispect that eases Audits and Inspections and saves 40-85% in routine workload. In addition, we develop product for global and government organisations that run their core business.



The University of Melbourne has had a long standing involvement with India. During its formative years, The University of Melbourne received high recognition when Lord Curzon, the Viceroy of India (1899-1905), invited Professor Masson, Chair of Chemistry at The University, to India to advise on the establishment of the Indian Institute of Science, Bangalore. Later, at the time of Indian Independence, Professor David Derham, who was to become Vice Chancellor of the University of Melbourne, was involved in drafting the Indian constitution. Today The University of Melbourne is engaged with the Indian Institute of Science and the Indian Institutes of Technology Kanpur, Madras and Kharagpur through the Melbourne-India Postgraduate Program, which offers graduate researchers the opportunity to work under joint supervision with leading academics from The University of Melbourne and one of the program's Indian partners.




Currently, the University of Melbourne has more than 40 IIT alumni either working as academics or enrolled in PHD. IIT student association@Melbourne has recently been established. The University of Melbourne is pleased to join IITaV as a Corporate member. This collaboration would provide IIT alumni working/studying at the University of Melbourne various opportunities to engage with IIT alumni living across Victoria.



IIT Student association @ Melbourne could be contacted by email or phone:
Mr. Tushar Sikroria (President)
M/ +61 481 796 814
tsikroria@student.unimelb.edu.au



Contact Us
We take this opportunity to thank everyone for their contributions. To help us improve the newsletter, please send your feedback and contributions (news, views and memories) for the next issue to mail@iitav.org.au. Previous editions of the newsletter are available here.

Thank you.
IITaV Management Committee
Indian Institutes of Technology (IIT) are the premier institutes of engineering education in India.
IITaV is the Alumni Association for IIT alumni in Victoria.