IITaV Newsletter
| | |
| --- | --- |
| November 2019 | Issue No. 19 |
President's Message
Dear IIT Alumni,

Welcome to this edition of our newsletter that reports on our professional and social events during the last six months. It has been a busy period since our AGM in May with two professional events and a social event. The organisation has also continued to grow steadily with a lot of participation from our associate members which is a welcome addition as it brings us closer to the student community of IIT Alumni here in Melbourne.

There were three professional events since our previous newsletter published in April 2019 and these were: "Scale up the Business with Ease" by Sameer Babbar; "Career Planning and Advancement Strategies" by Prof Arun Kumar and "Startup Stories from a Silicon Valley Entrepreneur" by Deepak Goel. On the social front, we had our Diwali celebration last month. Further details of these events are provided below in the newsletter. I thank all our Members, Associates and Corporate Members, Swinburne University of Technology, Envision IT and the University of Melbourne, for their continued support to these events.

The committee has also established introductory relations with ATMC and Bank of Melbourne. I look forward to strengthening these relationships and a closer engagement with these organizations, in addition to our relation with interstate and overseas alumni associations.

I would like to take this opportunity to thank current and past Committee members and their families for their great contribution and commitment that allows us to organise these professional and social events regularly. With dedicated efforts and the ongoing support from all our members, we will continue to actively organise and participate in more networking events in the rest of the year.

With best wishes for the coming holiday season and a Happy and Prosperous New Year,

Dr Sarbjit Giddey

Mob 0422341379
sarb.giddey@gmail.com
Diwali celebration - the IITaV way
October 20, 2019
Diwali is a signature event in the IITaV events calendar, and this year was going to be no exception. With the combined effort and enthusiasm of the management committee members and their spouses the planning was in full swing well before the event to make this year's Diwali celebration another memorable event. Those who attended the event will agree that it was indeed a night to remember. With Varalika and Taran in charge of the ceremonies, we knew we were in good hands. The opening prayer and lighting ceremony by Dr. Arun Kumar and Mrs. Madhu Kumar set the right tone for the occasion. This was complemented by devotional songs by Janani, Srujani and Aditi. Despite not feeling the best, Prof Raman Singh did not disappoint and sang a golden oldie. Sax by Sameer was a highlight!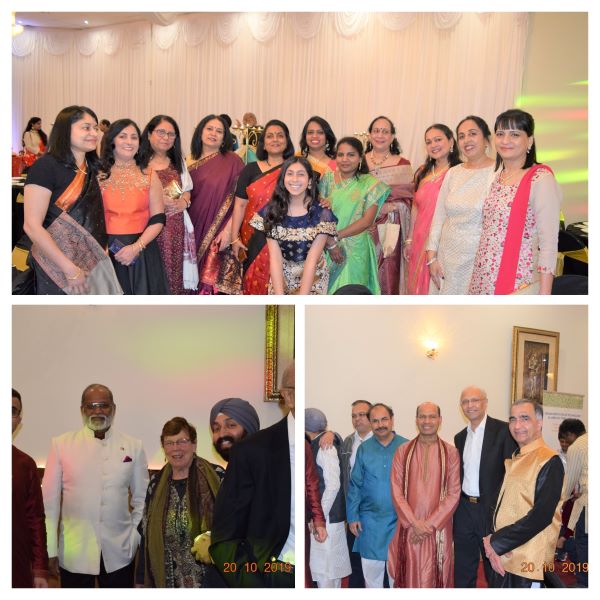 No Diwali function is complete without dancing and there was plenty on offer. The jury is still out on which of the two dance performances was better. The men doing their best impersonation of a peahen or the ladies dancing to one of the new Bollywood tunes! Perhaps the only way to settle this is via encore performances at the next event! Polished performances by IIT Juniors and the professionals, Meghana/Ashwini showed us all how it is done. The step by step coaching after their performance got the entire group to perfect a new dance sequence. The dance workshop conducted by Meghana at the function attracted the whole gathering to the dance floor. The music stayed on well into the night and so did the celebrations.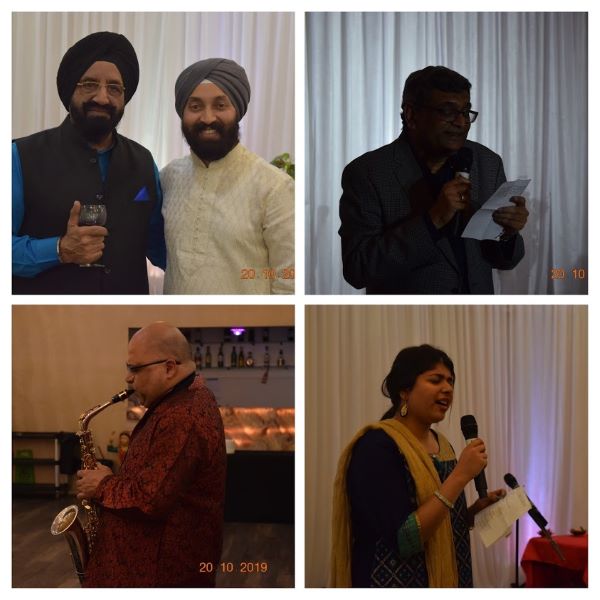 In amongst all the entertainment segments, Sarbjit Giddey (President of the IITaV management committee) formally welcomed all the guests and acknowledged the contributions from our corporate members and sponsors in making the event a success. We had a brief but humorous and informative speech by Mr. G Bajwa from ATMC (a key sponsor for the Diwali event). Mr. Bajwa encouraged the audience and other members of the IITaV community to provide internship and employment opportunities to ATMC students and graduates. Towards the end we heard an important message from Sunny Chandra encouraging IITans to participate in the political sphere and build on the lessons learnt from his recent run for the Senate.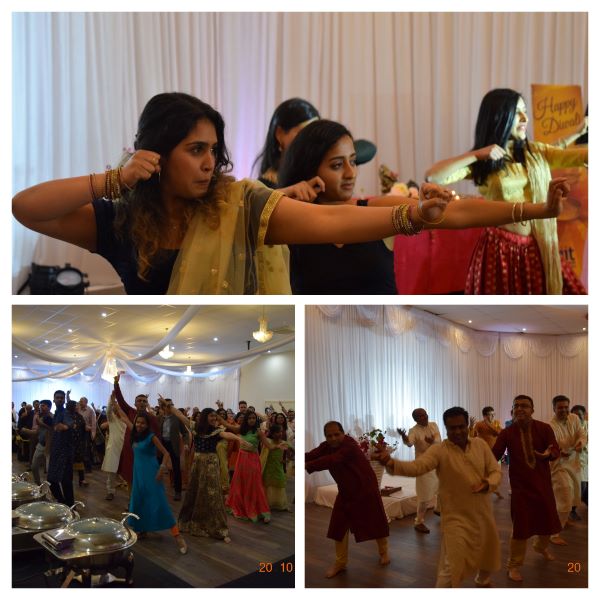 The success of the evening would not have been possible without the combined efforts of the extended IITaV family including members, their spouses and children. It was good to see the younger generation taking on an active role in the success of the evening. It is a good sign for the success of future IITaV events at which we look forward to welcoming all the members of the extended IITaV community. As always, the committee welcomes your feedback on what went well and what could be done better next time. Please reach out to one of the committee members and let us know your thoughts.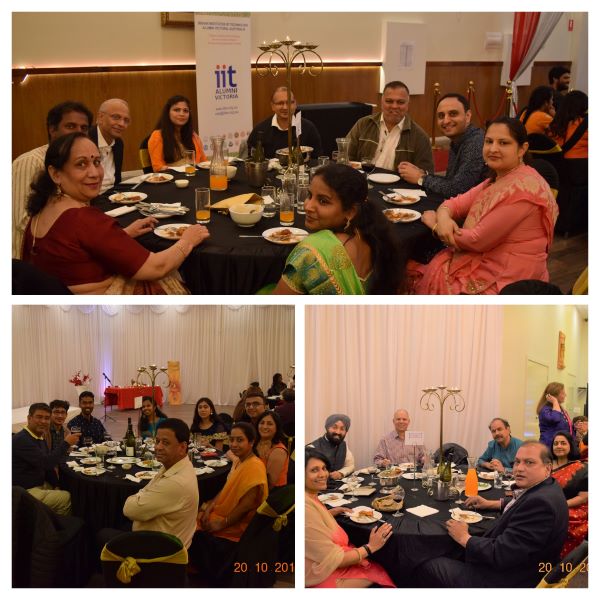 Scale up the business with ease
Sameer Babbar, IIT Roorkee
17th April 2019
Sameer Babbar, our alumni member presented at our networking event on how to "Scale up the Business with ease". Sameer's presentation on the topic encapsulated the major aspects of his book written on this topic. The audience found the talk very informative and inspirational. Sameer through his interactive forum like presentation explained to the audience how small businesses can find gaps in the market and then find market in those gaps without resorting to complex techniques and technologies. He also provided insight on how to leverage information that is already available in business from a wide range of free sources to enhance revenue, cut costs, deal with Amazon and improve bottom-line without breaking the bank. This event was attended by around 20 people comprising of IITaV members. Thanks to Sanjiv Bhasin, Shakthivesh and Meenakhi Arora for making arrangements for this talk.
Moving Up: Career Planning and Advancement Strategies
Prof. Arun Kumar
31st August 2019
Professor Arun Kumar, an IITaV founding Member and Past President, conducted an interactive Workshop aiming to provide strategies on Career planning and advancement for the benefit of Students and recent Migrants at University of Melbourne. Following an introduction to the speaker and attendees, Prof Arun Kumar talked about Career Planning, CV Presentation and Networking/Industry Engagement. This was followed by a Q & A session. With recent migrants and graduates looking for job opportunities in Australia, there was a wide range of discussion on local work culture, CV/resume preparation, responding to the job selection criteria and effective networking.
IITaV believes that this workshop was very unique in giving participants an opportunity to discuss with Prof Arun Kumar who has got over many decades of academic and industrial experience. We hope the session provided the attendees many key points that would help in boosting their career in the positive direction. IITaV thanks Prof. Arun Kumar for his time and effort in conducting this workshop.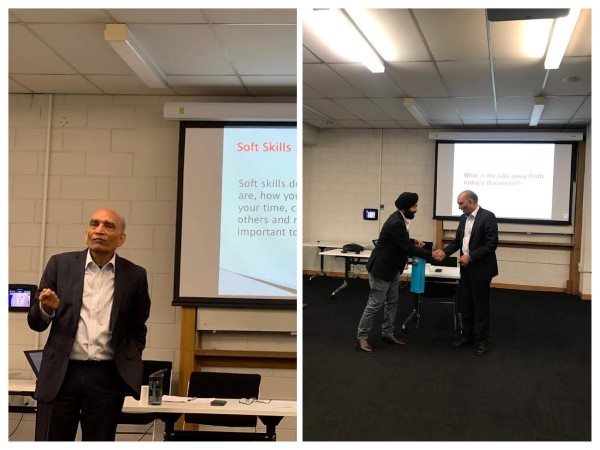 Professor Arun Kumar has over 45 years' experience in civil engineering, project management, construction, research, academia and consulting while working with governments, consulting companies and universities in Australia and overseas. Prof. Kumar's International work as an advisor / consultant to the World Bank for over 20 years spans across multiple countries and project stages. Some of his professional achievements and memberships include - member of the Board of Engineering and Board of Education of the Institution of Engineers Australia, Chair of the Management Branch of the Institution of Engineers, Australia; an assessor for Australian Research Council linkage and discovery grants, a Mentor Cluster consultant/advisor in the "Innovative Practice Program", School of Engineering, University of Melbourne. Professor Kumar has over 180 publications in journals, book chapters and conferences, and has been a keynote speaker and session chair at several international conferences and forums.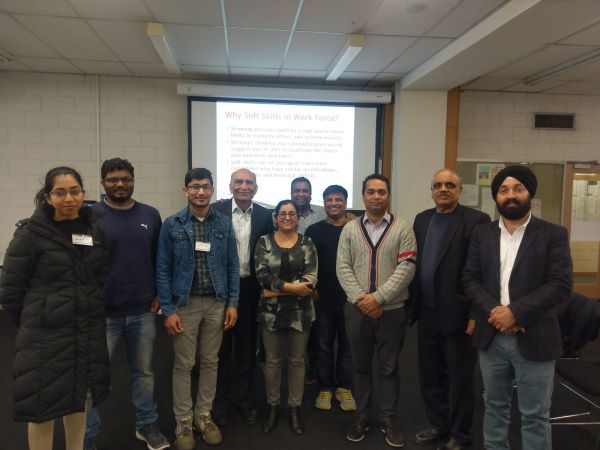 Startup Stories from a Silicon Valley Entrepreneur
31st October 2019
It's Halloween.. we are ready for the treat, as introduced by Abaran. The treat of knowing stories of start-ups, lessons followed by questions and answers session from the Silicon Valley based start-up guru,
Deepak Goel
. Deepak told a great story staring with his humble beginnings of working in Microsoft (recruited at IIT, Delhi campus in 2000) in MountView during the years of the start-ups like Facebook, LinkedIn and Google were shaping up. He was so down to earth to say that he was also in race to Green card like any immigrant/expat worker in USA. His journey of playing with the start-ups started with joining the organisation Coupons.com (Silicon Valley) in 1998, followed by Indian Homes (Delhi) and then Packback (Chicago) and recently with the
Karma Circles
and
Product Studio
that he is working on.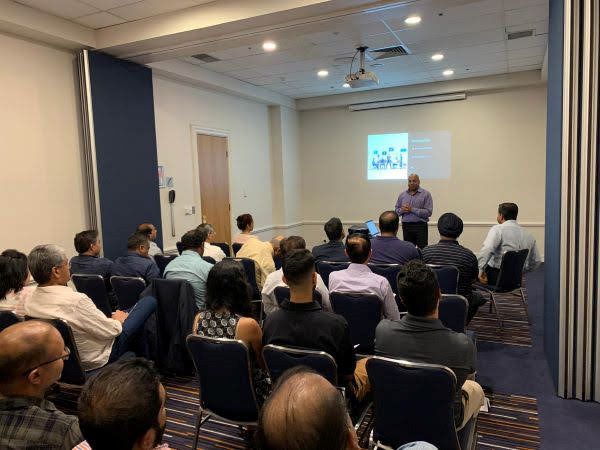 Some of the lessons he shared worth noting are:
1+1 is 11 – Always have a partner who you can depend on especially for morale boosting in low moments. During this team up/partnering one should ensure the EGO has to be set aside. He shared a couple of examples and in particular the one about Infosys founders was fascinating.
Sales is the important and major task at the start and takes almost 80% of the time and money rather that product engineering. Apart from Revenue generation Sales are important for other reasons

To raise money
To recruit and retain the talented resources (employees)
To convert prospects into clients

Get to the customers as soon as possible and address their needs as fast as you can. Deepak gave the example about how India Homes responded to the customer interest on their website phone within a few minutes of the customer entering the phone number in the website and ensuring that a sales person team is at the customer door step the same day to respond to the customer need.
Taking Calculated Risk – As the term is self-explanatory, the case study mentioned was how the Coupons has a taken a decision to do the couponing solution for Safeway at $0 cost. The investment was paid in multiple ways like a few other clients like Walmart has given the business and also eventually converting the Safeway to a paying customer during the course of time.
The session ended with a succinct message that the luck, time and patience matters. Isn't it true that these three characteristics are must for entrepreneurs who would like to see their product being sold and adding value to the intended clients while they cherish the goal.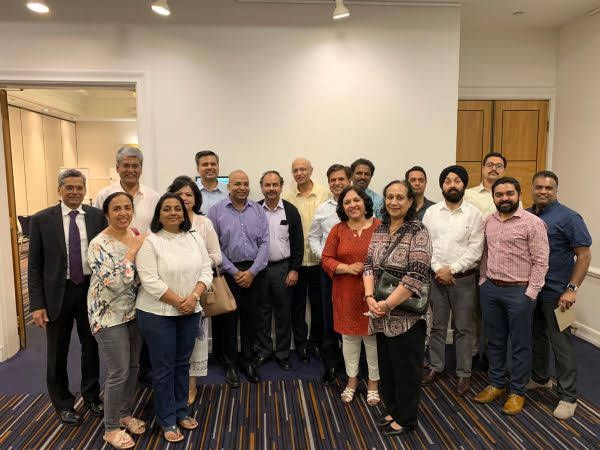 Deepak holds an MBA from Haas School of Business, UC Berkeley, USA and a computer science degree from IIT, Delhi, India. He is a TEDx speaker, Mensa member and has been issued 4 patents for his inventions. Deepak has (literally) made it his business to help others. He has spent two decades in Silicon Valley mentoring and being mentored by exceptional minds and has now made it his mission to pay it forward, through technology. His brain child, KarmaCircles, makes it possible for professionals to give and take help without social media fatigue. His other initiative, ProductStudio, helps several startups in Silicon Valley in building and maintaining their products.
IITaV AGM 2019
19th May 2019
IITaV held its AGM 2019 at Oakleigh Community Centre, Oakleigh, on 19th May 2019 and elected the
Management Committee for 2019-20
unanimously. Around 40 IITaV Members attended the event and shared their thoughts to help shaping IITaV events for the upcoming year. Please find the
AGM Presentations
and
MoM
.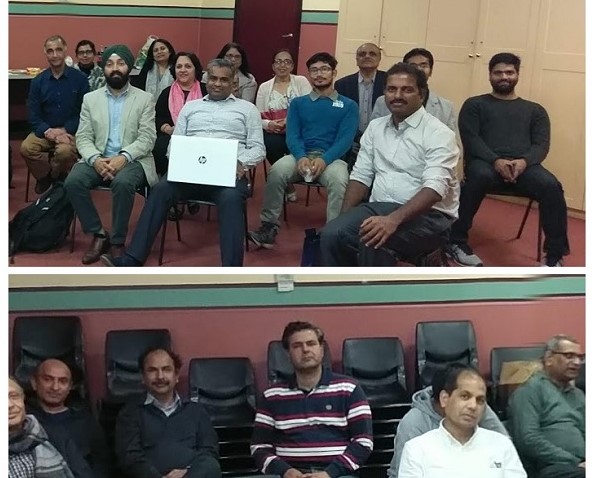 IITaV President, Dr. Sarbjit Giddey, presented a summary of IITaV activites held during last year. He told the audience that the objective, "Promoting professional development and social interaction between Members, together with growing the Membership base" drove last year's Committee activities. He thanked the support extended by all IITaV Members and their family to the Committee's activities.
IITaV Treasurer, Divakar Prasad presented the Treasurer's report for 2018-19. Treasurer's report had every cent accounted. The audience commended the effort of executive team 2018-19. This was followed by the brainstorming session lead by the president on improving the services to the members and students. There was an active participation from all the members and the suggestions were documented to be considered for the implementation.
IITaV interactions with other IIT Alumni Associations
In continuation of the last year efforts to connect to the other IIT associations, we had a chance to meet Dr Nipen Shah, IITAA President in Melbourne. As part of the cooperation, IITAA and IITaV Members are welcome to attend events from both Organisations at Membership rates. For example, if an IITAA member is interested in attending any of IITaV events, he/she is welcome to attend the event at Membership rates. We will continue the collaboration and further build on these relationships.
IITaV Gold Corporate Members

Swinburne University of Technology is an Australian public university based in Melbourne, Victoria. Swinburne operates five campuses in two countries and has an enrolment of students across vocational, undergraduate and postgraduate levels.

Swinburne houses advanced labs such as Design for Ageing, Smart Structure and Factory of Future labs. "Being a corporate member of IITAV, we benefit from collaborations and industry experts to create a new forum for engineering students," Professor Ajay Kapoor, said.

Swinburne has been ranked one of the world's top 400 universities by the prestigious 2015 Academic Ranking of World Universities (ARWU). This result places Swinburne among the top 3% of universities in the world.

Swinburne was named one of the world's top 400 universities by the Times Higher Education University World Rankings 2014–2015. In 2015, Swinburne was ranked for the first time in the Times Higher Education Top 100 Under 50 Rankings, an index of the world's top universities under the age of 50.

Established in 2002 in Melbourne, Envision IT develops software products for global markets. This includes Standalone, Cloud based SaaS, Enterprise, Line of Business and mobile applications.

Envision IT products are known for their ease of use, high productivity, efficiency and reliability. Typically, our products offer an ROI under 3 months.

We are able to achieve this through decades of experience in industry, developing 100+ innovative projects and technology alliances (see below). This enables us deliver products that are seamlessly integrated, diligently automate tasks and streamline business processes.

Microsoft technologies and agile methodology provide a base platform for all our projects. The projects however invariably involve disparate software and hardware from vendors such as Adobe, Autodesk, Cameras, CISCO, Devices, Equipment, Hadoop, Hortonworks, IBM, MongoDB, Oracle, Pay by Phone, RFID, SAP, SenSen Networks, Sensors etc. We maintain alliances with all major and many niche technology vendors.

Envision IT products has consistently won awards right from TravelSmart (2004) to Encarp for employee parking management (FMA 2011 Runners up) to our new product – Audispect that eases Audits and Inspections and saves 40-85% in routine workload. In addition, we develop product for global and government organisations that run their core business.

The University of Melbourne has had a long standing involvement with India. During its formative years, The University of Melbourne received high recognition when Lord Curzon, the Viceroy of India (1899-1905), invited Professor Masson, Chair of Chemistry at The University, to India to advise on the establishment of the Indian Institute of Science, Bangalore. Later, at the time of Indian Independence, Professor David Derham, who was to become Vice Chancellor of the University of Melbourne, was involved in drafting the Indian constitution. Today The University of Melbourne is engaged with the Indian Institute of Science and the Indian Institutes of Technology Kanpur, Madras and Kharagpur through the Melbourne-India Postgraduate Program, which offers graduate researchers the opportunity to work under joint supervision with leading academics from The University of Melbourne and one of the program's Indian partners.

Currently, the University of Melbourne has more than 40 IIT alumni either working as academics or enrolled in PHD. IIT student association@Melbourne has recently been established. The University of Melbourne is pleased to join IITaV as a Corporate member. This collaboration would provide IIT alumni working/studying at the University of Melbourne various opportunities to engage with IIT alumni living across Victoria.


IIT Student association @ Melbourne could be contacted by email or phone:
Mr. Shaktivesh
M/ +61 423 624 594
mukesh.soni@unimelb.edu.au
Contact Us
We take this opportunity to thank Mr Raja Ravi and other contributors for their effort in preparing this newsletter. To help us improve the newsletter, please send your feedback and contributions (news, views and memories) for the next issue to mail@iitav.org.au. Previous editions of the newsletter are available here.

Thank you.
IITaV Management Committee
Indian Institutes of Technology (IIT) are the premier institutes of engineering education in India.
IITaV is the Alumni Association for IIT alumni in Victoria.