Diwali Dinner, November 2012
24 November, 2012 in Events
Our Diwali dinner on 24 November at Cafe Mod Oz had over seventy attendees. The ambience was great and the entertainment was remarkable for its variety including songs, jokes and dancing.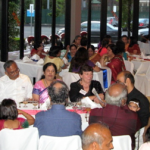 We thank all our performers including Aditi Ghuman, Dolon Ghuman, Ramona Bhattacharya, Swarna Bhartula, Radhe Shyam Gupta, Raman Singh, Sunny Chandra and Arun Kumar for their brilliant contributions. Our MC, Sangeeta Singh and the ladies who put together the beautiful Diwalli lights and decorations were marvellous. The Bollywood dance session led by Marshie Perera Rajakumar of Jhoom Dance Company encouraged many to take on the fun challenge of dancing to Dhoom Taana from the hit film Om Shanti Om.
The networking continued late into the balmy, summer evening. Thank you to Ravi Singh and team for organising the successful event.