IITAV celebrates Diwali 2013
28 April, 2014 in Events
The much loved Festival of Lights was celebrated in style on 9 November 2013 at the comfortable and centrally located Café ModOz in Melbourne.  IITAV members and their family were treated to some fabulous festivities and food.
Members were welcomed by the young ladies in their beautiful garments, with the traditional lamps in the finely decorated thalis glimmering on the table nearby. Traditional Indian music in the background added to the atmosphere.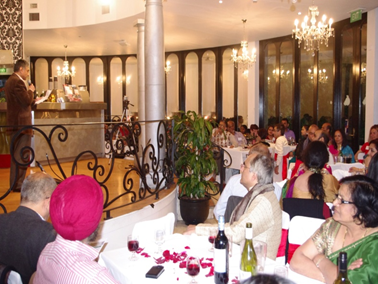 Rashmi Kapoor and Sangeeta Singh were comperes par excellence. They started the festivities with some poems about Diwali. Radhey Shyam Gupta, Raman Singh and Amarnath Anumariapudi enchanted the audience with their melodious songs. Nalin Sharda demonstrated his excellent acting skills. With the help of a humble aloo (potato), he delightfully depicted the nine rasas (moods) that we experience. Sunny Chandra entertained with his favourite jokes. Not to be outdone, the youngsters were represented by Nishka Kesarwani who showed a glimpse of her excellent dance skills.
The Dandiya dance choreographed by Tara Rajkumar was performed enthusiastically by several members and their spouses. This encouraged a large number of people to the dance floor and learn and perform the Dandiya Ras themselves.
Earlier, Raj Rajakumar and Arun Kumar, present and past Presidents, spoke briefly. The event concluded with a vote of thanks by Ravi Singh, Vice President.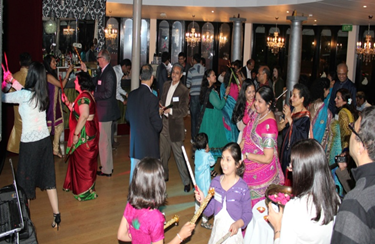 The dining and networking continued late into the night.
It was another well-organised event and nearly 80 guests participated and enjoyed the festival mood.
Many favourable comments were received. As one member put it, "An awesome event that provided a great celebratory atmosphere for Diwali to members and their families. Many thanks to the Committee."
Indian Institutes of Technology Alumni Victoria – Engineers Australia Gala Dinner: Role of Engineers in Australia in the Asian Century